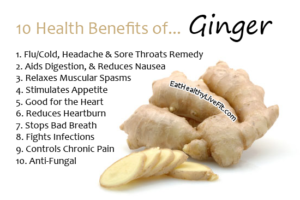 As this is a medicinal plant, you should always consult your health-care practitioner, when choosing to use it as a herbal remedy.
Ginger's Health Benefits include;
1. Aids Digestion & Reduces Nausea and Morning Sickness
The number one symptom relief that you may associate Ginger with, is aiding digestion and reducing nausea. It has a long history of being a motion-sickness remedy and has also been shown to be as effective as prescription medication.
2. Flu/Cold, Headache & Sore Throats Remedy
Ginger and Lemon tea is one of the best soothing remedies for Flues, colds, head-aches and sore throats – Adding a teaspoon of honey to sweet, if you like.
3. Good for the Heart
Ginger has been shown to reduce bad cholesterol levels. In a study 45 day study "85 individuals with high cholesterol, [were given] 3 grams of ginger powder [which] caused significant reductions in most cholesterol markers".
4. Relaxes Muscular Spasms and 5. Controls Chronic Pain
If you have exercise induced pain or any general muscle spasms and pains, Ginger has been shown to assist with relieving them. The reason for its ability to do so, is has an anti-inflammatory response on the body.
6. Reduces Heartburn
Instead of taking heartburn medication, a person can try consuming ginger after a meal in the form of tea. This is because Ginger has a gastroprotective effect, which basically means it blocks acid from heading back up into the oesophagus.
7. Stops Bad Breath
If you eat Ginger at the end or towards the end of your meal, it cleanses your palate and leave your mouth with a fresh feeling. Drinking a fresh ginger tea after eating flushes it out and neutralises bad tastes and breath from your mouth and throat.
8. Anti-Fungal and 9. Fights Infections
Gingerol, the bioactive substance in fresh ginger, has been shown to lower the risk of infections, as it inhibits growth of certain bacterium. Ginger extract is an anti-fungal and has been effective on Candida Albicans sufferers. Bacterial and Fungal infections of the mouth can be both be rid from consuming or even just chewing on fresh ginger.
10. Stimulates Appetite
Ginger is a remedy for loss of appetite. It increases your appetite by getting the digestive juices going.
If you enjoyed this post and would like to see more, you can also find us on Twitter, Facebook, Pinterest and Instagram. Check our pages out, and don't forget to Follow us and Subscribe to our Newsletter, to keep up-to-date on Everything you need to know for Eating Healthy & Living Fit!