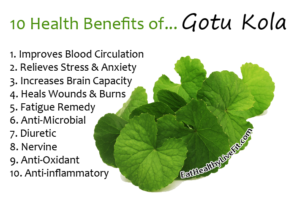 As this is a medicinal plant, you should always consult your health-care practitioner, when choosing to use it as a herbal remedy.
Gotu Kola is not really a commercially known Herb, but it very beneficial for the body. It grows in tropical, wet areas. It is used for year for natural/alternative remedies in countries such as India, Africa and China, but it now used in countries around the world. Gotu Kola flowers, but the main medicinal part of the plant is their oddly shaped leave.

Gotu Kola's Health Benefits include;
1. Increases Brain Capacity
Consuming Gotu Kola has been linked to improving Cognitive Function and Abilities, increasing the brain's capacity. For this reason, it can be used as a supplement and remedy/preventative for Alzheimer's Disease and Dementia .
2. Improves Blood Circulation
Gotu Kola extract can increase the strength of Blood Vessel walls Capillaries. It also stimulates blood-flow and circulation, oxygenating different parts of the body and organs.
3. Anti-Microbial
Gotu kola is an Anti-Inflammatory, Anti-viral, Anti-bacterial, Insecticidal, and Anti-fungal.
4. Diuretic
Gotu Kola is known to be a mild diuretic. It can release toxins, excess salts and water, as well as fat, through the flushing of urine out of the body.
5. Anti-inflammatory
The Anti-Inflammatory properties of the Gotu Kola leaves can be used to treat stomach pain, which can be caused by ulcers.
6. Remedy for Fatigue
Gotu Kola, not only treats mental fatigue, it can treat physical fatigue and increase energy store within the body. It can also bring back a lost libido.
7. Remedy for Stress and Anxiety and 8. Nervine
Gotu Kola is great for brain capacity but is also great for treating nervous disorders such as epilepsy. It can be helpful as a remedy for Stress and Anxiety and depression.
9. Heals Wounds & Burns
Gotu Kola is greatly known for it speedy wound healing. The leaves stimulate blood-flow and increase the speed of healing of wounds, as well as burns.
10. High Anti-Oxidant
Gotu Kola's Anti-Oxidant properties have many great effects on the body. It reduces the signs of aging (skin, brain and organs) as well as the nine health benefits above.
If you enjoyed this post and would like to see more, you can also find us on Twitter, Facebook, Pinterest and Instagram. Check our pages out, and don't forget to Follow us and Subscribe to our Newsletter, to keep up-to-date on Everything you need to know for Eating Healthy & Living Fit!