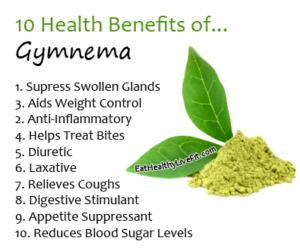 As this is a medicinal plant, you should always consult your health-care practitioner, when choosing to use it as a herbal remedy.
Gymnema can be found in tropical forests in India and Asia. It has been found to be beneficial for health in many ways, as with most herbs and spices. Below is a list of 10 Health benefits of Gymnema. Many of these health benefits stem from the "sugar-blocking" properties that Gymnema has. As many of these health benefits listed below, overlap, with regards to sugars, digestion stimulation and weight-loss, I have not expanded on all of them for this article.
Gymnema's Health Benefits include;
1. Reduces Blood Sugar Levels
A study has been done to prove that during digestion, the acids from Gymnema, have sugar blocking properties, which in-turn reduces the levels of Blood-sugar. Gymnema has been found to assist sufferers of Type 1 and 2 Diabetes, however a healthcare practitioner should be consulted prior to using Gymnema medicinally for hypoglycemia, as blood-sugar levels are already low.

2. Anti-Inflammatory
3. Helps Treat Bites & Swollen Glands
4. Aids Weight Control
5. Relieves Coughs
6. Digestive Stimulant
7. Diuretic
8. Laxative
9. Desensitises sweet taste buds
10. Appetite Suppressant
If you enjoyed this post and would like to see more, you can also find us on Twitter, Facebook, Pinterest and Instagram. Check our pages out, and don't forget to Follow us and Subscribe to our Newsletter, to keep up-to-date on Everything you need to know for Eating Healthy & Living Fit!