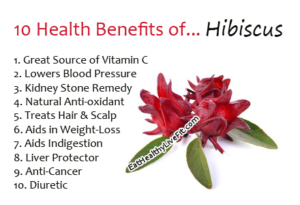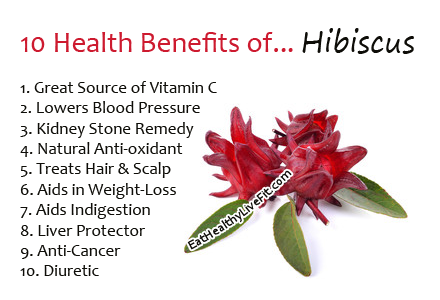 As this is a medicinal plant, you should always consult your health-care practitioner, when choosing to use it as a herbal remedy.
Hibiscus' Health Benefits include;
1. Lowers Blood Pressure
Many studies have been done on the effects of Hibiscus with relation to blood pressure. In these studies, a hibiscus extract was given to the participants. These extracts were shown to maintain a normal blood-pressure and did not alter potassium and salt levels within the participants.
2. Natural Anti-oxidant and 3. Liver Protector and 4. Anti-Cancer
The anti-oxidants within Hibiscus help maintain a healthy functioning body. They can lower Cholesterol, protect the liver, be anti-cancer and more.

5. Great Source of Vitamin C
Hibiscus is full of ascorbic acid (Vitamin C), among the other vitamins and minerals present. The Vitamin C present, make Hibiscus a great anti-bacterial and anti-inflammatory.

6. Aids in Weight-Loss
Studies have shown that consuming hibiscus extract can lower your absorption of starch and glucose and can help with weight-loss.
7. Diuretic and 8. Aids Indigestion and 9. Kidney Stone Remedy
Having diuretic properties, Hibiscus can aid the flushing of toxins out of the body through the urine but can also assist with the aiding of digestion. Flushing out toxins and excess salts, calcium, etc. can also assist with the prevention and remedy of Kidney Stones.
10. Treats Hair & Scalp
Hibiscus is beneficial for you hair-growth, strength and being anti-dandruff. Hibiscus can be used in shampoos, conditioners, hair masks, and in hair oils.
If you enjoyed this post and would like to see more, you can also find us on Twitter, Facebook, Pinterest and Instagram. Check our pages out, and don't forget to Follow us and Subscribe to our Newsletter, to keep up-to-date on Everything you need to know for Eating Healthy & Living Fit!