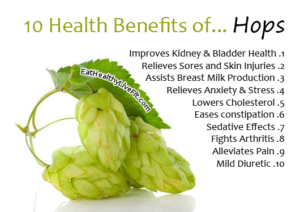 As this is a medicinal plant, you should always consult your health-care practitioner, when choosing to use it as a herbal remedy.
You may know Hops to be part of Beer, but did you know that it also has health benefits?
Hops' Health Benefits include;
1. Fights Arthritis
A study done on arthritis sufferers found that Hops acts like a natural substitute for arthritic drugs such as Vioxx and Celebrex.

2. Eases constipation
Hops has a long history of treating digestive issues, including indigestion, diarrhoea, IBS, gas and constipation, due to its anti-spasmodic properties.

3. Relieves Sores and Skin Injuries
Hops has been known to heal and relieve skin from psoriasis and itching. Hops is a calming anti-inflammatory and anti-viral, so it can rid the skin of infection and irritation. The other benefits that Hops has on the skin is Abscesses, Bedsores, Boils, Bruises, Cuts, Dandruff, Reversing hair loss, Skin Ulcers, Wounds, and Wrinkles.

4. Alleviates Pain
Pain alleviation is another benefit of Hops. It can reduce many forms of pain the body, including Menstrual, general muscle cramping, arthritic pain, bladder infection pain and more.

5. Sedative Effects and 6. Relieves Anxiety & Stress
Combined with Valerian, Hops can be used as a sedative. As well as having a anxiety and stress relieving effect.

7. Assists Breast Milk Production
Hop has been taken to assist the production and flow of Breast Milk.

8. Improve Kidney & Bladder Health
Hops can be taken to alleviate Kidney and Bladder infections and improve the overall health of these organs.

9. Mild Diuretic
Hops is a mild Diuretic. This is great for flushing out excess water in the body, removing toxins out of the body and getting rid of infections, such as Kidney and Bladder, as mentioned above.

10. Lowers Cholesterol
Hops can lower your cholesterol which is great if you have a high level, but be cautioned to not use it medicinally if you are already taking a cholesterol lowering drug.
If you enjoyed this post and would like to see more, you can also find us on Twitter, Facebook, Pinterest and Instagram. Check our pages out, and don't forget to Follow us and Subscribe to our Newsletter, to keep up-to-date on Everything you need to know for Eating Healthy & Living Fit!