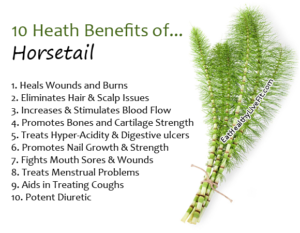 As this is a medicinal plant, you should always consult your health-care practitioner, when choosing to use it as a herbal remedy.
Horsetail's Health Benefits include;
1. Increases & Stimulates Circulation and Flow
Horsetail can be used as a remedy for many problems in the body that relate to blood-flow and circulation. It can be used topically and internally in a tea, for medicinal purposes.
2. Potent Diuretic
For the treatment of any Urinary Tract Infection, Horseradish in the form of a tea, to flush out the causing infection. It is known to be the most diuretic herb. It is great, not just for UTI's, but also haemorrhaging, cystic ulceration, ulcers and cystitis.
3. Promotes Bones and Cartilage Strength and 4. Promotes Nail and Hair Growth & Strength
Horsetail contains silica, which is great for the repair and strength building of Bones and Cartilage, as well as other body tissues. Silica is also great for promoting nail and hair growth and strength.
5. Fights Mouth Sores
Drinking or gargling a tea made of Horseradish, can improve Oral Health. It can alleviate mouth sores, tonsillitis and bleeding gums.
6. Eliminates Hair & Scalp Issues
As Horsetail is great for stimulating blood-flow, it can be used for promoting the health of hair and scalp. It can strengthen the hair follicles and decrease dandruff.
7. Heals Wounds and Burns
The Silica present in Horsetail, can also heal Wounds and Burns.
8. Treats Hyper-Acidity & Digestive ulcers
Horsetail is effective in treating disorders that affect the function of the digestive tract. It can heal and suppress inflammation and stomach ulcers.
9. Treats Menstrual Problems
Excess menstruation/bleeding can be treating by the coagulant and haemostatic activity of Horsetail. It also contains anti-inflammatory properties which are beneficial for menstrual cramping and discomfort.
10. Aids in Treating Coughs
Horsetail is known for it's alleviation of dry coughs, nasal congestion and bronchial issues. Drinking the tea or inhaling the steam 2 or 3 times a day, may help relieve these symptoms.
If you enjoyed this post and would like to see more, you can also find us on Twitter, Facebook, Pinterest and Instagram. Check our pages out, and don't forget to Follow us and Subscribe to our Newsletter, to keep up-to-date on Everything you need to know for Eating Healthy & Living Fit!