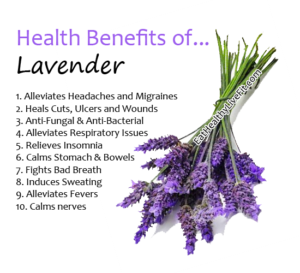 As this is a medicinal plant, you should always consult your health-care practitioner, when choosing to use it as a herbal remedy.
Lavender's Health Benefits include;
1. Calms nerves and 2. Alleviates Headaches and Migraines
Traditionally Lavender has been known for it's calming and soothing effect. It can be used to calm nerves, stress, head-aches and migraines.

3. Relieves Insomnia
If a person suffers from anxiety, depression as a lead up to not being able to sleep, Lavender can be used for its sedative effect; calming and inducing sleep.

4. Treats Upset Stomach & Bowels
Stomach-aches and Bowel problems, can often be caused by nervousness and anxiety. As mentioned above, Lavender is great for assisting with these issues, as it calms the nervous system.
5. Alleviate Respiratory Problems
Lavender is used for many respiratory issues, such as throat and nose infections, colds/flues, bronchitis, asthma, and more. Applying the oil to skin (on throat, neck or back) or used in a vaporiser can alleviate these respiratory issues, as the oil will be inhaled into the effected areas and fight infections and break-up and loosen phlegm.
6. Fights Bad Breath
Drinking Lavender tea can help to fight bad breath, due to its anti-bacterial properties.

7. Anti-Fungal & Anti-Bacterial and 8. Heals Cuts, Ulcers and Wounds
Lavender has anti-microbial (anti-fungal and anti-bacterial) properties, which makes it great for healing and treating cuts, ulcers and wounds.

9. Induces Sweating and 10. Alleviates Fevers
The calming properties of Lavender means it can assist with reducing a fever. Drinking a Lavender tea will naturally warm you up enough to make you mildly sweat but calm you to bring down a fever.
If you enjoyed this post and would like to see more, you can also find us on Twitter, Facebook, Pinterest and Instagram. Check our pages out, and don't forget to Follow us and Subscribe to our Newsletter, to keep up-to-date on Everything you need to know for Eating Healthy & Living Fit!