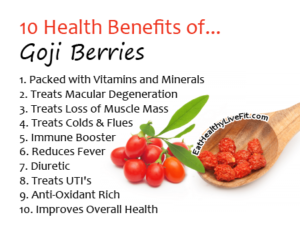 As this is a medicinal plant, you should always consult your health-care practitioner, when choosing to use it as a herbal remedy.
Goji Berry's Health Benefits include;
1. Improves Overall Health and 2. Dense Nutritional Profile and 3. Immune Booster
Goji berries are one of, if not the best dried fruits you can eat. They are full of nutrients and anti-oxidants and great for overall health and immune boosting.
4. Treats Loss of Muscle Mass
Goji Berries have been used for thousands of years for strength building. The Iron in the berries, assist with transporting healthy oxygen rich blood around the body and muscles, Goji Berries also contain Calcium which helps to regulate healthy nerve and cardiovascular function assisting with healthy muscles. In a 30gram serving of Goji Berries, there is 4g of protein, which assists with building of healthy muscles. Continue reading →