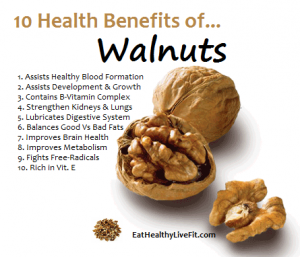 Walnuts are delicious, high-energy, healthy nuts with lots of minerals, vitamins, nutrients, antioxidants and heart-friendly fats. Together with other nuts, walnuts are considered 'brain food' because the compounds of walnuts have a positive effect on brain health, cognitive functions, memory etc. There's also an analogy between the shape of a walnut and the shape of the human brain so perhaps Mother Nature is trying to tell us which foods are good for which part of the body.
Walnuts are high in calories – 100 grams contains 654 calories. This calorie content comes from the healthy fats in walnuts that come in the form of monounsaturated fatty acids. There are 72% of these such as oleic acid. Also, there are omega-3 fatty acids such as arachidonic acids, alpha-linoleic acids and linoleic acid. These 'good' fats help the heart stay healthy and strong and prevent conditions such as coronary artery disease, strokes etc. and they can keep the cholesterol levels in balance by increasing the good cholesterol in the body and reducing the bad one. 25 grams of walnuts per day brings around 90% of the recommended daily dosage of omega-3 fatty acids.
Walnuts contain many phytochemical compounds that are excellent antioixidants such as ellagic acid, carotenoids, melatonin, vitamin E, polyphenolic substances etc. All these help fight free radicals and keep us healthy by preventing cancer, neurological diseases, inflammations, aging etc.
According to that, walnuts have an ORAC value of 13541 micromol/TE which is probably one of the highest in any type of food. 6-7 average sized walnuts per day helps fight harmful free radicals and keeps the body extremely healthy.
One of the most useful vitamins in walnuts is vitamin E. This strong antioxidant is present with 140% of the recommended daily intake and it helps protect the mucus membranes and skin from free radicals. There are B complex vitamins as well: pyridoxine, folates, riboflavin, niacin, thiamin, pantothenic acid etc.
As with most nuts, walnuts are packed with minerals as well: selenium, magnesium, zinc, calcium, iron, magnesium, potassium, copper etc. Copper is essential for the formation of red blood cells and is a co-factor for many enzymes (superoxide dismutase, c-oxidase etc.); zinc is a co-factor in enzymes responsible for development and growth; selenium is a co-factor in the antioxidant enzyme glutathione peroxidases etc.
Walnuts give excellent walnut oil. This product can be used in cosmetic purposes to keep skin moist and it can be used in cooking as well.
Walnuts can be found in supermarkets all year round. These nuts come in different forms: they can be shelled or unshelled, salted, sweetened etc. At home, keep walnuts in a dry and cool place and they can last for years. If you have shelled walnuts (without the outer cover), the kernels can be kept in the fridge in an airtight container.
The nutritive value for 100 grams of walnuts is as follows:
654 kcal

Dietary fiber: 6.7 grams

Protein: 15.23 grams

Carbohydrates: 13.71 grams

Total fat: 65.21 grams

Cholesterol: 0 mg
Serving suggestions:
Raw, salted, unsalted, sweetened etc.

In salads and toppings, in desserts, ice creams, sweets, cakes, biscuits etc.
Still want to know more? You can also find us on Twitter, Facebook, Pinterest and Instagram. Check our pages out, and don't forget to Follow us, to keep up-to-date on Everything you need to know for Eating Healthy & Living Fit!
{ 0 comments }