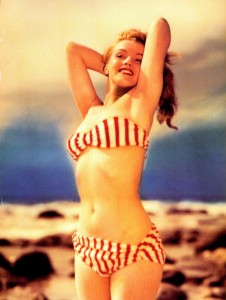 Do you want YOUR BEST Bikini Body? Whatever shape that may be, we've got a few exercises that will tweak that body to make it ideal for your Bikini.
The following workout is designed to tone and tighten all the muscles that will be on display in your bikini. These calorie-scorching, shoulder-sculpting and core strengthening exercises will get you back into your ideal shape within no time.
It is vital to begin any type of workout with a brief dynamic warm up such as squatting or jumping.
Stand in front of a bench with your feet shoulder-width apart. Step right foot onto the bench. Rise up and touch the toes of the left foot lightly on the bench as if dipping in water. Quickly bring left foot back down touching the ball of the foot to the floor. Repeat for one minute. Switch sides and do the same exercise with the right foot. This exercise targets your abs, calves, butt and back. If you need a video demonstration, check out this link on TOE DIPS.
Lie on your right side, with your hips stacked and right leg slightly bent. Arrange yourself up on your forearm in such a way that your elbow comes directly underneath the shoulder. Slowly lift your hips off the floor as high as possible. In order to achieve more effective results especially on your inner thighs and oblique's, raise your left arm straight up in a vertical position and try to reach arm with your left leg simultaneously. Hold this position for thirty seconds and then switch sides. If you need a video demonstration, check out this link on SIDE PLANK.
Sit on a bench with your back straight, chest up and knees bent. Keep your heels about three feet in front of you and your arms at your sides. Lift your body up from the bench and gradually bend your elbows to 90 degrees. Straighten your arms back. Repeat these dips to up to five times. Triple toner acts on your inner thighs, upper back, triceps as well as abs. If you need a video demonstration, check out this link on TRIPLE TONER.
Stand with feet shoulder-width apart and arms on your side. Lift your arms over the head with the palms facing in (it's optional to hold some weights) and raise your right leg from the hip until it is parallel to the ground. Count till two and then drop the right foot in to a front lunge. Repeat ten times then switch sides. This workout focuses on thighs, glutes, shoulder and abs.
Do this work out three to four times a week, followed by twenty minutes of high intensity cardio in order to reach your set goal. It is important to realize however, that results don't materialize overnight but hard work will always pay off in the end.
Still want to know more? Well we are also on Twitter, Facebook, and Pinterest. Check our pages out, and don't forget to Follow us, to keep up-to-date on Everything you need to know for Eating Healthy & Living Fit!
{ 0 comments }