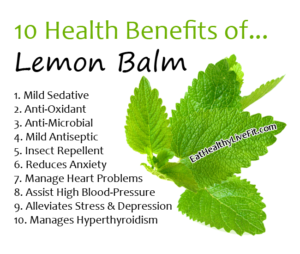 As this is a medicinal plant, you should always consult your health-care practitioner, when choosing to use it as a herbal remedy.
Lemon Balm's Health Benefits include;
1. Mild Sedative and 2. Reduce Anxiety and 3. Alleviates Stress & Depression
Lemon Balm's sedative and calming effects make it a great alleviator of anxiety, stress and depression. As it has a "calming of the mind" effect, it is great to induce a peaceful sleep.
4. Manages Hyperthyroidism Treatment
It is believed that Lemon Balm can also manage problems associated with the Thyroid.
5. Anti-Oxidant
Lemon Balm is a powerful Anti-oxidant, keeping guard from free-radicals.
6. Assist High Blood-Pressure and 7. Manage Heart Problems
As Lemon Balm has an overall calming effect on the body, it is calming for the heart as well. Lowering Blood-pressure and managing other heart problems.
8. Mild Antiseptic and 9. Anti-Microbial
If you're not feeling well, drinking Lemon Balm tea can rid viruses and bacterial infections. The tea will also induce sweating to bring down a fever brought on by a virus or infection. Lemon Balm can also work topically as a antiseptic.
10. Insect Repellent
Lemon Balm is a great herb for repelling biting insects, such as mosquitoes.
If you enjoyed this post and would like to see more, you can also find us on Twitter, Facebook, Pinterest and Instagram. Check our pages out, and don't forget to Follow us and Subscribe to our Newsletter, to keep up-to-date on Everything you need to know for Eating Healthy & Living Fit!