What are Core Muscles?
Core strengthening exercises are all the rage in fitness nowadays. Everybody from professional athletes to marathon runners and celebrities are adopting it for the purpose of better performance, improved posture and a stronger spine. The basic aim of core strengthening workouts is to bolster all the muscles of the torso from top to bottom as well as front to back in order to create a balance. These exercises can be explained as the key to spinal health, weight loss, improved performance and fitness in our everyday lives. It is basically a bridge that joins the upper body with the lower body. Core muscles include the abdominal muscles, back muscles and muscles around the pelvis.
Role of Core Strength in Daily life
A human body's core plays an integral role in the daily routine. Such that picking up a toddler, carrying groceries, having proper posture, getting up from the couch etc. All these everyday tasks require strong core muscles and would otherwise result in a weaker back and a hunched walk especially when a person is aging. However, the occurrence of such workouts is predominantly found in female disciplines like dance, cheerleading, yoga and Pilates.
Benefits of Good Core Strength
There are innumerous benefits of good core strength training workouts such that, a strong core reduces back pain by maintaining appropriate posture and reducing strain on the spine, it improves athletic performance as it carries the power originating from a stable spine to the muscles of the arms and legs within a human body. Core training is also most commonly adopted for the purpose of improving postural imbalances and to develop functional fitness which in turn is essential for daily living and regular activities. Finally we can say that core exercises allow freedom of movement, increases flexibility, results in burning more calories and can usually be carried out at the comfort of your home on a mat and requires no specialized equipment or an expensive gym membership.
Effective Core Strengthening Exercises
Core exercises are most effective when they involve a number of muscles simultaneously throughout the torso across several joints and then work in harmony in order to coordinate stability.
The most commonly adopted core strength exercises include:
1. Glute Bridge



Lie on your back in a neutral position, with your knees bent. Tighten your abdominal muscles and raise your hips off the floor until they become aligned with your knees and shoulders. Hold the position for as long as you can without breaking form.
2. The Plank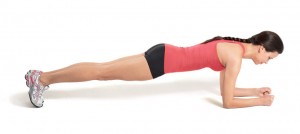 Lie down on your stomach. Lift your body off the floor with your forearms at 90 degrees and your toes. Keep your body in a straight position for 30 seconds to 1 minute. Repeat several times.
The plank works your entire upper and lower body muscles.
3. Ball Roll in



Sit in an upright straight position. Put your hands on the floor and the front part of the feet on top of the ball. Keeping your hands stable, bend your knees to bring the ball towards your chest. Hold this position for two seconds (focus on squeezing the ab) and roll back out. Repeat.
This exercise targets the abdominal muscles.
Practicing the above exercises three to five times a week would not only result in strengthening the body's core but also subsequently lead towards a healthier and more active living. We can therefore, say that core exercises are an integral part of a well rounded fitness regime.
Still want to know more? Well we are also on Twitter, Facebook, and Pinterest. Check our pages out, and don't forget to Follow us, to keep up-to-date on Everything you need to know for Eating Healthy & Living Fit!
{ 0 comments }