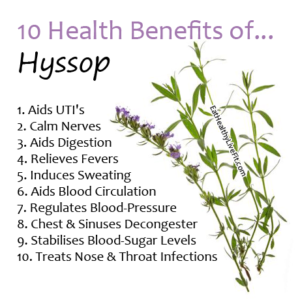 As this is a medicinal plant, you should always consult your health-care practitioner, when choosing to use it as a herbal remedy.
Hyssop's Health Benefits include;
1. Removes Congestion from Chest & Sinuses
Hyssop can be used to remove congestion of the Respiratory Tract (the chest and sinuses). Inhaling the vapours or rubbing the oil (with a base oil) onto the chest, can open up the chest and force the clearing of mucus and other nasties.

2. Regulates Blood-Pressure
Hyssop can be used to relieve hypertension and and regulate high blood-pressure. But always consult a healthcare practitioner before using it, as it is not for everyone.
Continue reading →